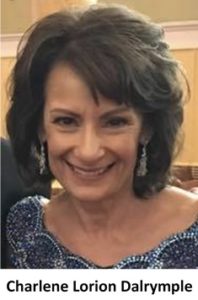 The Waltham Philharmonic Orchestra is pleased to feature soloist Charlene Dalrymple in our March 17th concert, Poetic Pastorals. Below is Charlene's bio. She also let us learn more about her interesting career and experiences in the following interview.
Charlene Lorion Dalrymple is the former Choral Director and Department Chair at Oliver Ames High School in North Easton, Massachusetts. She was also Professor of the Stonehill Collegiate Chorale for twenty-four years. Charlene sang for 15 years at the Cathedral of the Holy Cross in Boston, as a Cantor and member of the Cathedral Quartet. She spent five years as a member of the BSO's Tanglewood Chorus and has performed as a soloist in numerous concerts with The Boston Archdiocesan Boy Choir in Cambridge, as well as choral societies in metropolitan Boston, performing solos from Mozart's Requiem, Mass in c minor, and Vespers, as well as Haydn Mass in D, Vivaldi Gloria, Faure Requiem, Poulenc Gloria, Handel's Messiah and Brahms Requiem. She has been a frequent soloist with the Boston Boy Choir in Cambridge, MA and has performed as guest soloist in Baroque Recitals at Georgetown University and Stonehill College. She also enjoys her work with students in her voice studio and singing with her daughter, Jessica, whenever she can! She thanks her husband for his continuous support of her musical endeavors!
You'll be performing the vocal part in Vaughan Williams' "Pastoral." Can you tell us about the part and what it, and the piece, mean to you?
It being one of the most haunting and beautiful of symphonies, I know that Vaughan Williams was in a way turning "pastoral" on its head, as the piece was written to evoke the horror and his memories of the First World War. As you listen to the first three movements, you can hear the sounds of the grey, ruined landscape, and references to bugle calls and the sounds of war.
In the fourth movement, as the soprano, I enter evoking a lamentation, perhaps of the loss of life, and the echoes of what occurred on the battlefields of France. I think this part perhaps ends the piece on a solemn, haunting, lonely, but encouraging and soothing note of peace or finality.
Working with students has been a major part of your career, as Choral Director at Oliver Ames High School and Professor of the Stonehill Collegiate Chorale. Has teaching enhanced your love of music? If so, in what ways?
Oh my goodness, absolutely!! Throughout my many years of teaching, I have personally witnessed how student involvement in music has changed lives for the better, has made them and myself better human beings, has developed their sense of beauty in the world. It has also given them a safe place to be with others, working in cooperation with others and experiencing all the human emotions through musical practice and performance. I am also happy that I have been able to sing myself throughout my career, feeding my soul with what I love to do.
Your five years with the Tanglewood Chorus must have been an interesting, hopefully fun, experience. Do you have any special memories about your time with them?
I have many wonderful memories of Tanglewood! Working with the conductors alone: Seiji Ozawa, Leonard Bernstein, Zubin Mehta, Sir Colin Davis and of course John Williams! It was like getting another college education working with these musicians; much of what I learned I have used to this day. At that time, we also sang all the concerts at Tanglewood, in addition to the winter season in Boston. I was chosen to be one of John Williams' "Space Ladies" as he called us, for the recording of the Close Encounters theme recorded at Symphony
Hall. Throughout the five years, one of my favorite experiences was singing Arnold Schoenburg's Gurrelieder with Ozawa, the BSO, and the wonderful soloists David Arnold, Jessye Norman, James McCracken, Tatiana Troyanos, and Kim Scown. Every season we would also fly to New York to sing at Carnegie Hall. I was teaching at the time and if you were absent you had to call the principal; each year for the New York performances, I would call him and say I wasn't feeling well in January (for five years), and I wonder if he ever put two and two together, but the school system would not give us the time off for such things…. The year we did the Gurrelieder, the choir members were on the same plane and we burst into the final movement Seht die Sonne (meaning "see the sun") in flight!! It was glorious! (This still gives me the chills!!) If you haven't heard this work, we also made a recording of it at Symphony Hall and it is a wonderful recording!! Singing so many great works as well as all the December Pops Concert music was the chance of a lifetime, and I am grateful that I had that experience!
Do you have any special interests or hobbies outside of singing?
Yes! I love to cook, have three perennial flower gardens that I work in over the spring and summer, I am an avid reader of mostly fiction, and I take tap dance lessons for fun! I also enjoy lap swimming and keeping in shape! I also have a wonderful husband Brian, beautiful daughter and son-in-law, Jessica and Kevin, and whenever we can, we spend time together, or visit them in NYC!
How do you feel about performing with the WPO on March 17th?
I am very excited about singing with the Waltham Philharmonic Orchestra and am very grateful for the opportunity!! Looking forward to meeting everyone!!