Music Director – Michael Korn
As a conductor Michael Korn has appeared on stage of Symphony Hall, Tsai Performance Center and Paramount Theater in Boston. An avid American music advocate, he premiered works by contemporary composers and conducted performances of Gaelic Symphony by Amy Beach, À Montevideo Symphony by Louis Moreau Gottschalk, and the Romantic Symphony by Howard Hanson. Most recently, Michael Korn conducted the US premiere of Schubert's Unfinished Symphony in a completed edition by German composer/scholar Benjamin-Gunnar Cohrs.
As an accompanist, Michael Korn has collaborated with many outstanding Boston musicians and young talented performers. He regularly teaches students in orchestral settings and conducts Oliver Ames High School orchestras in Easton and Sharon Community Chamber Youth Orchestra. Michael Korn has recently been named the winner of The American Prize, a national non-profit competition in the performing arts, in the orchestral programming division.
Michael Korn is Music Director of the Waltham Philharmonic Orchestra, Sharon Community Chamber Orchestra, and Sharon Youth Community Orchestra.
Associate Conductor – Emily Eng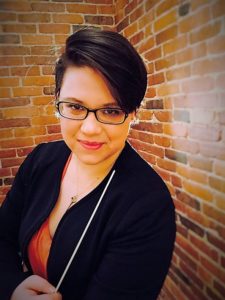 Associate Conductor and General Manager Emily Eng is currently pursuing her Master of Music degree in conducting at New England Conservatory, studying with Charles Peltz. She graduated summa cum laude from Brandeis University in 2014 with a BS in Biochemistry and Music Composition. An accomplished cellist and composer, she was selected to participate in the highSCORE Composition Festival in Pavia, Italy in the summer of 2013. Winner of the 2014 Reiner Prize in Composition, Emily continues to compose – her wind ensemble piece, Lumen, was premiered by the WPO at the 2015 Leonard Bernstein Festival of the Arts – and play cello with the WPO Chamber Players and pit orchestras in the Greater Boston region.
Our Board
Mayor Jeannette A. McCarthy, Honorary Chair
Stephanie Schaffhausen, Executive Director
David Salstein, President
Karen Walz, Vice President
Brian Schaffhausen, Clerk
Jane Pollack, Treasurer
Members At Large
Joseph Capello
Robin Krause Capello
Jeff Krasofski
John Monahan
Arthur Payne
Daniel Romard
Graphic Design Intern
Featured Artists
Coming soon!