Guest Soloist Rachel Braude, Flute
On Sunday, December 5th, noted flutist Rachel Braude will be featured in the WPO Holiday Pops concert. Below are Rachel's bio and our interview with her. She is a fascinating musician!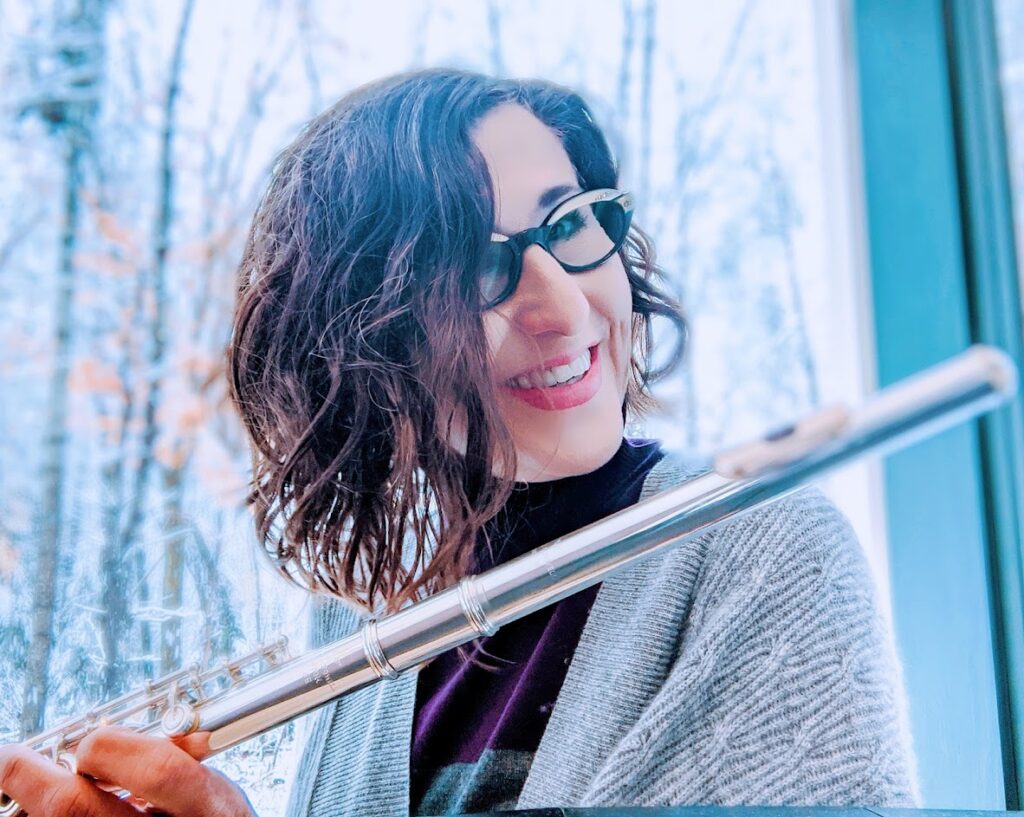 Grammy-award winning flutist and piccoloist Rachel Braude has been a prominent member of the Boston music scene for many years. She is on the faculties of Dartmouth College, Northeastern University, and the New England Conservatory of Music (Preparatory Division). Rachel is the former piccoloist of the St. Louis Symphony and currently holds positions with the Portland Symphony, Rhode Island Philharmonic, Boston Philharmonic, Boston Modern Orchestra Project, and Odyssey Opera. She is also a frequent performer with the Boston Ballet Orchestra, the Boston Pops Esplanade, the Boston Pops Orchestra, and the Boston Symphony. She regularly performs in every role in the flute section, from principal to piccolo and has appeared as a soloist with several orchestras including the Portland Symphony. Rachel is a long-time member of the prestigious Arizona Music Fest and in the summers can be found performing at the New Hampshire Music Festival and teaching at the Greenwood Music Camp (Junior Division). Rachel won a Grammy in 2019 for her participation in Tobias Pinker's Opera The Fantastic Mr. Fox with the Boston Modern Orchestra Project. She is the former instructor at the University of Massachusetts, Boston; Rhode Island College, School of Music; and was interim lecturer in flute at the University of Rhode Island, School of Music. A frequent guest lecturer, Rachel has visited the flute studios of the Longy School of Music, Tufts University, University of Colorado, Amherst College, Williams College, University of Oklahoma, and Wichita State University. Rachel is a graduate of the New England Conservatory of Music and the Juilliard School. She can be heard on the Chandos, Naxos, New World, and BMOP Sound labels. Rachel is married to the violinist and Concertmaster, Charles Dimmick. Their daughter Chloe, aged 10, is an aspiring violinist and author. Visit RachelBraude.com for more information.

How did you become interested in the flute, and at what age?
I fell in love with the flute because my mother is also a flutist, and I always wanted to make the sound I heard as she practiced every day. I desperately wanted to be big enough to play the flute just like my mother. I was always a physically tiny child, which I hated. This was a big enough issue that my parents had bought me several books that explained being little had advantages, like being able to hide in unexpected places. The books also explained that I could still do all this "big kid things too," just sometimes with a little ingenuity, like standing on a chair. So, when I begged non-stop to be allowed to play the flute at around age 5 or 6, I just would not accept my parent's answer that I was still too little to do so. Trying to come up with something, my mother told me that my lips were shaped incorrectly for the flute. So, I started chewing them off to try to re-shape them based on what perfect flute lips looked like. I also remember sneaking into the basement to play a black flute. Turns out, my mother had misplaced an old wooden, one-keyed flute (called a traverso) down there and I was practicing it on the sly! Eventually, I became big enough to play the real flute and take real lessons and my journey began in earnest!
You're on the faculty of several notable higher ed institutions. Tell us about your experiences with students, and how they affect your own musicianship.
I love my students! I find the process of putting into words the musical and technical issues that arise in our work together forces me to really understand and clarify how to accomplish something on the instrument. This process distills each specific aspect of learning to its essence and informs me at least as much as it informs them. Each person has their own set of intrinsic challenges, so I get to think deeply about things that match my own challenges but also about things I came to instinctively. This process of re-examination deepens my relationship with music and the flute.
I especially adore that most of my students are pursuing other avenues for their career, and music is their place of refuge, expression, and connection. Even though music is my career, I am especially drawn to those who pursue it purely for the love of music-making without any of the layers of complexity involved when it is a career pursuit. I strongly believe we make the world a more beautiful place when we come together to make music and my ultimate goal is to ensure music remains a part of my student's lives for their entire lives. A community orchestra is the embodiment of this ideal, which makes me especially glad to be part of this concert!
In your role as guest lecturer, what topics do you usually cover?
I cover a wide range of topics from taking an audition, to covering specific repertoire, to talking about specific skills such as vibrato, tone production or technique. But I am most often asked to talk about the piccolo, a specialty of mine and an often overlooked gem of the orchestra. I find it especially wonderful to take an instrument we often associate with pain and shrieking and share how it is capable of the most lovely, unexpectedly beautiful sounds. It's a little like writing a great mystery with a surprise ending!
OK, now you've GOT to tell us about that Grammy!
This was one of my favorite projects ever. I have been a member of the Boston Modern Orchestra Project for 25 (!) years and we record a ton! The group is dedicated to playing lost masterpieces and undiscovered new music. We have had multiple Grammy nominations, so it was exciting to win this one after getting close a few times! The Grammy was for a recording of a children's opera based on Roald Dahl's book, The Fantastic Mr. Fox by composer Tobias Pinker. It's a great story about the underdog (underfox?) outwitting the powerful. The whole orchestra was so charmed by this piece and the singing and the costumes, we had a ridiculous amount of fun in the performances and recording. I knew the book inside and out, because my daughter was just the right age at the time and she LOVED the performance. It was a memorable experience and the fact that it now comes with bragging rights is almost criminal!
On December 5th at the WPO Holiday Pops, you'll be playing Cécile Chaminade's Flute Concertino. What does that piece mean to you, and how do you feel about playing it with the WPO?
Every flutist who plays to a serious high school level learns to play the Chaminade Concertino. It is one of those pieces we all fall in love with immediately and it's a staple in our literature. It's also really special that it was written by a woman at a time when that was a rarity and it's been part of our repertoire since its composition. Even though I've taught it and played it for years, this concert will be the first time I've ever performed it with orchestra which is a pretty special milestone. I also want to add that the Chaminade is a sort of audition piece in a personal way as my father-in-law's (a former trumpet player) first request of me upon meeting him was to play the Chaminade for him as a part of my "audition for the family" process. I'm happy to report that I think my performance passed the test as I've been married for 18 years (so far)!
As I mentioned, amateur musicians hold a special place in my heart, so to get to play this with the WPO in celebration during the dark of winter when we all need some light is as good as it gets. To be able to make music together after all the isolation of covid is an experience I can't find words for. And to play with Mischa Korn at the helm, a musician of the highest caliber who brings a delicious combination of musical depth combined with playfulness, is something I am truly looking forward to experiencing. Thank you all for inviting me!