Guest Soloist Victor Romanul, Violin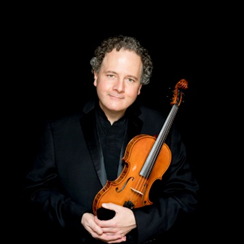 Currently, violinist Victor Romanul has planned performances of the John Williams Violin Concerto, Jose White Lafitte's magnificent Concerto in F sharp, and Tchaikovsky's Violin Concerto, among other notable works. In August 2022, as part of Tanglewood's celebration of John Williams' 90th birthday, Williams attended a performance of the Violin-Viola Duo Concertante which he had composed for Victor and violist Michael Zaretsky. Victor's recent Boston Symphony performances of solo and chamber music material have included Paganini's Aria in A, Sauret's Prelude in G minor, Bach's Chaconne, Maud Powell's arrangement of "Nobody Knows the Trouble I See," and William Grant Still's Suite for Violin and Piano.  A student of Jascha Heifetz, Joseph Silverstein, and Ivan Galamian, Victor served for three years as Concertmaster of the Ars Poetica Chamber Orchestra, made up of musicians from America's top five orchestras which meets in Detroit several times a year. With a current repertoire of over one hundred concerti, and having given multiple performances of the complete Paganini Caprices, Ysaÿe Sonatas, and Bach Sonatas and Partitas, he aspires to new challenges on the violin. Having delved deeply into the obscure great works of historic virtuoso violinists, he delights in bringing them to the concert stage. Victor has written an article for Strings Magazine about the story of his career, and recently, Mel Magazine featured him in an article about learning to love classical music, comparing his featured quick tempo performance to those of the late, renowned rock guitarist Eddie Van Halen.

Here is our interview with this most interesting and accomplished musician:

You've been a featured soloist at the WPO twice before, and we're so happy to have you play with us again. This time it will be White Lafitte's Violin Concerto, a piece not often played. Can you tell us more about it and what it means to you?
White Lafitte's violin concerto is such a gift. It is an amazing piece of music. He traveled to Paris and had compositional and violinistic training from the best at the Paris Conservatoire in the 19th century. I am grateful to Maestro Korn for introducing this great work to me. I feel that is even bests the other virtuoso concerti written in France during that century. It is exciting, notoriously difficult, and fun. It is a delight to play. I am really looking forward to it. 

According to your bio, the renowned composer and conductor John Williams composed a piece for you (violin) and viola. How did that come about?
John and I have been friends for more than 20 years. I have a pile of letters from him. He attended a duo violin-Viola concert I gave and came backstage to talk to us. My Viola partner Michael Zaretsky asked him to write a piece for the two of us, and one day a Fed-Ex truck pulled up to his house with the music for the 14-minute duo. The world premiere recording is on You Tube. I am also fortunate to have played for him his unpublished violin concerto from the music he sent me, and he graciously allowed me the rights to perform it whenever and whenever I want, and the rights to borrow the orchestral parts.
You say that you aspire to new challenges on the violin and delve into obscure works. Please describe some of these challenges, and the works you're discovering for yourself and your audiences.
From my grandmother Stella Roman, the great Opera diva, I learned that music does not have to be boring. There are magical works hidden in plain view from a range of composers that just need to be brought to light on stage. I performed quite a few hidden gems during the time of the pandemic on Boston Symphony live streams from the stages of Symphony Hall and Tanglewood.
In a magazine article, your style of performance for some pieces was compared to that of the late, renowned rock guitarist Eddie Van Halen! What's the basis for that comparison?
Mel Magazine published an article several years ago featuring ten online performances from around the world that would make you fall in love with classical music.  My performance of Locatelli's Labyrinth was selected as one of them; the YouTube video is below. They said that the style of my playing was like classical music's equivalent of Eddie Van Halen. 
As stated, we're delighted to have you play with us again. Tell us what performing with the WPO means to you, and the feelings you'll bring to your performance on March 26th.
Having been brought up in Brookline, the WPO has been part of my life from the very start. The Music Director and the musicians strive for excellence. I love to be part of that. In one bit of recent serendipity, a close relative of mine died a few weeks ago, and the one really old item I discovered the other day was a gold Waltham Watch Company pocket watch from 1883. This discovery I feel is a wink from the universe.