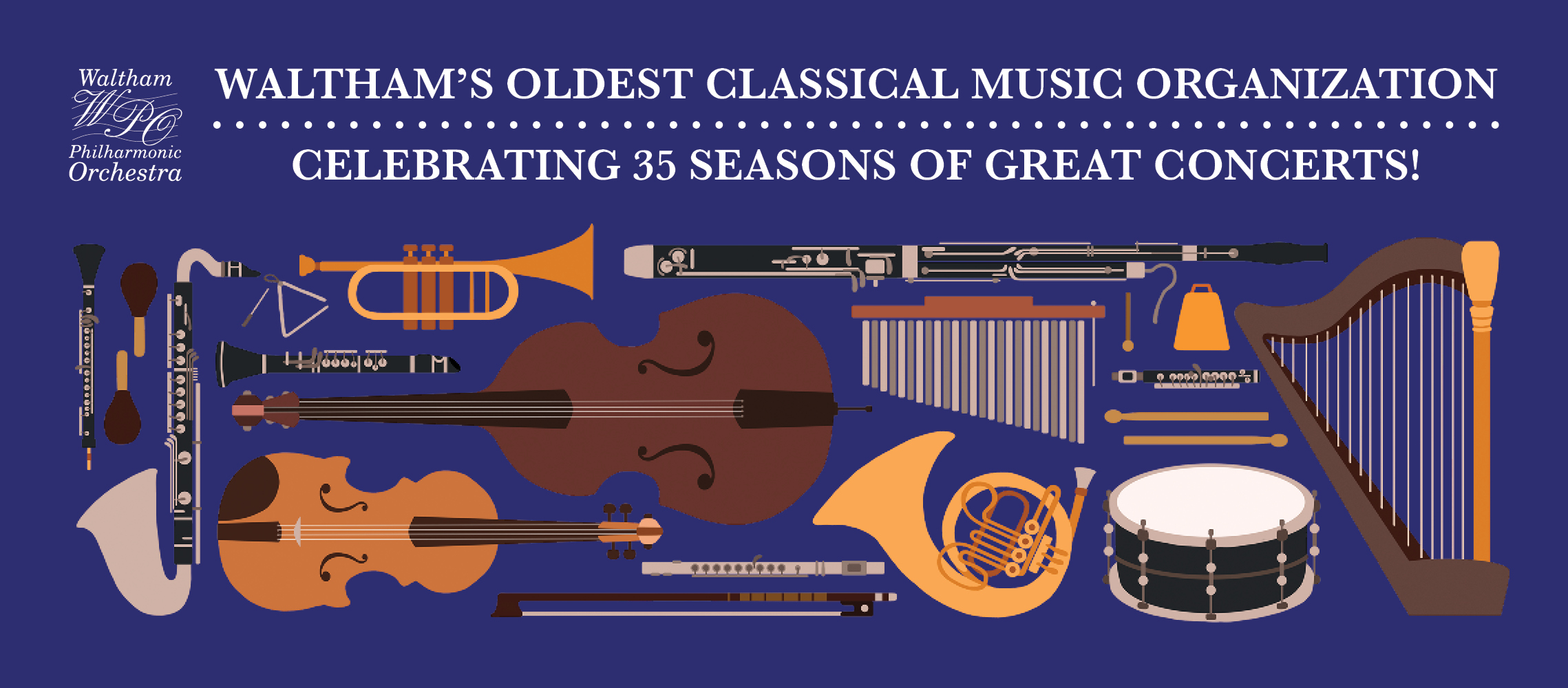 Guest Soloists Victor Cayres, Piano, and Ji Myung Kim, Violin
The WPO is proud to present pianist Victor Cayres and violinist Ji Myung Kim at our October 31st concert, "Our New World," in which they will play Mendelssohn's Double Concerto. Both musicians have extremely interesting backgrounds; their full bios can be found on their web pages: https://www.victorcayres.com/biography and http://www.kimjimyung.com/bio . They each graciously participated in a WPO interview; see below.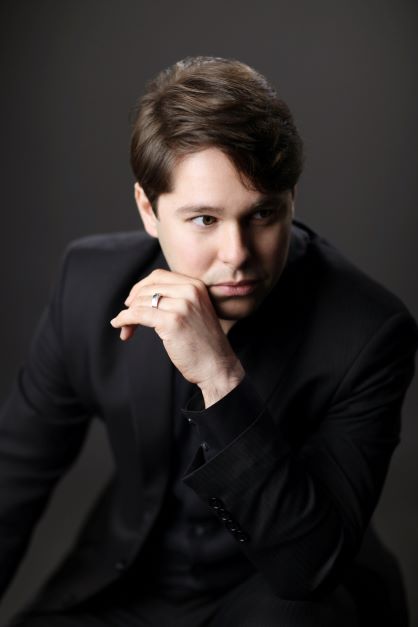 When did you first become a musician, and what led you to the piano, in particular?
There was always music at home. My father was an amateur trumpet player and both he and my mom were big fans of classical, jazz, and popular music. According to my parents, when I was about 4 or 5 years old, I went to the upright piano we had at home and started playing with the keys, like any curious child would, but when my older sisters started having piano lessons, I chose karate classes instead! When I was a teenager, I got started on organ lessons and piano, and by the time I got into college I already knew I wanted to become a professional musician. I always loved to sight-read piano repertoire, not only the ones I had to practice for piano lessons, but anything available within my grasp, especially the method books that my sisters were no longer using. I liked being by myself for hours reading and discovering music, even if at a more advanced level than I could handle at the time. Probably that is what led me to stay with piano, because those moments alone with the instrument always gave me not only great satisfaction and joy, but also an early insight into what I could do with my skills in life. I am sure many musicians probably felt that way when they were young, which is a precious realization not always available to high school students when choosing a future career.
You've been referred to as "spirit of a leader" by the Swiss newspaper La Liberté. Can you tell us what they meant by that?
It was my first important concert in Europe, and I was very excited about it. I was playing with a wonderful and well-established ensemble, the Sine Nomine string quartet, performing music that I deeply love, Schumann and Shostakovich piano quintets. From the very first rehearsal with them I was already awestruck. They are, each of them, extremely professional and fantastic players but, most importantly, they were gracious and accommodating in allowing me to explore different tempi and character in the pieces and allowing me to be myself and comfortable sharing how I wanted to interpret them. Although at first I was nervous about playing with such an exquisite group, they made me feel gradually more confident in rehearsals and, eventually, in the concert. I think this may have given the impression to the critic writing the review that I was leading the performance. I wanted everything to go so well that I was probably overdoing and exaggerating my cues to them, but I was also following their lead in moments when the piano was not prominent in the texture. It is always a give-and-take interaction when you play as an ensemble, a lot of listening and responding to what you hear on the spot, but it was truly remarkable that they were able to create this welcoming atmosphere in which I could play without feeling patronized. They embraced what I had to say and made sure I felt comfortable playing with them as equals, a kind gesture that I never forgot. What they did for me is what I aim to do in every rehearsal and performance with other musicians, regardless of their age and experience.
You're on the piano faculty at New England Conservatory Preparatory School, Boston University School of Music, Eastern Illinois University, and serve as Associate Director at Boston University Tanglewood Institute Young Artists Piano Program. How has your teaching experience been rewarding for you?
When I teach, I learn a lot from students but also about myself. Sometimes the thought process is "What would I do if I were this student?", and from there it is relatively easy to instruct someone. But I am often faced with the more difficult proposition "What should this particular student, who is completely different from me, do to improve?" This is what keeps me curious and challenged to find ways to help a student. In this search for solutions, I frequently consult my own mentors, more experienced musicians who have been on this road longer than I have, and with my wife who is also a pianist and teacher. It is gratifying and informative to learn how others teach. Sometimes, instead of a lesson, I talk and/or listen to a student facing difficulties in life or with the instrument, and that already can make a difference, even a small one, in someone's day. I think this is quite a rewarding aspect of teaching.
You have played frequently in Brazil, Europe, and the U.S. Is there any one experience that stands out to you that you can share with us?
I like performances that cause people to feel differently from the time they first arrived at the concert—myself included. I can tell from talking to audience members afterwards if the experience was special or just "meh" for them. Here are a few memorable examples for me: the day after a concert in a small town in the Czech Republic an audience member looked for the hotel where we were staying and gave me a small drawing of his childhood house. He said the third movement of the piano concerto we played the day before brought back this memory dear to him and he decided to draw it. In Chicago, after a short recital, an audience member gave me a drawing of myself playing piano, such a sweet gesture. A church choir member came up to me after I finished playing Chopin's second nocturne as a postlude in a church service and told me she was moved to tears thinking about her mother, who used to play that piece many years ago. When I first played Gershwin's Rhapsody in Blue with orchestra and my parents were in the audience in Sao Paulo—my Dad loves the piece. My parents always did and still do so much for me, so I was very moved to be able to present such a gift for them. Last year, in Switzerland, before many countries shut down due to COVID, I played a Mozart concerto for three pianos with my wife and goddaughter with her dad conducting, a longtime friend—it was meaningful for me to share beautiful music with people that I love so much (a week later everything shut down in Europe and who knows when the next opportunity for such an occasion will arise again). Finally, and this was not even my own concert, the first time my Dad heard the Boston Pops performing live, an orchestra he grew up listening on LPs as a kid and never dreamed of one day hearing in person—I thought he was going to faint; that happened a few years ago and, boy, what an impact that had on me!
On October 31, you'll be playing Mendelssohn's Double Concerto with violinist Ji Myung Kim. Tell us what this piece means to you, and how you feel about playing it with the WPO.
I love every note of it. Learning and getting to know it more each day has been a most fulfilling journey; it has everything I appreciate in music: drama, lyricism, tenderness, energy, vitality, fun, all within a very well-organized structure. Ji Myung and I have been working very hard to accomplish all the technical demands and understand it well enough to communicate the strength of its musical message. He is such a talented musician, and his playing expresses a lot of precision, intensity, and warmth. It is wonderful to collaborate with him and we are both very proud to be performing with Waltham Philharmonic Orchestra and dear friend Michael Korn, who is a superb musician. I feel very enthusiastic to make music with WPO for the first time and that we get to present this masterpiece together. Besides, it is paired up with Dvorak's New World Symphony, which is a powerhouse on its own and a symphony that almost made me switch from piano to conducting! I think people will experience a powerful and electrifying concert on October 31!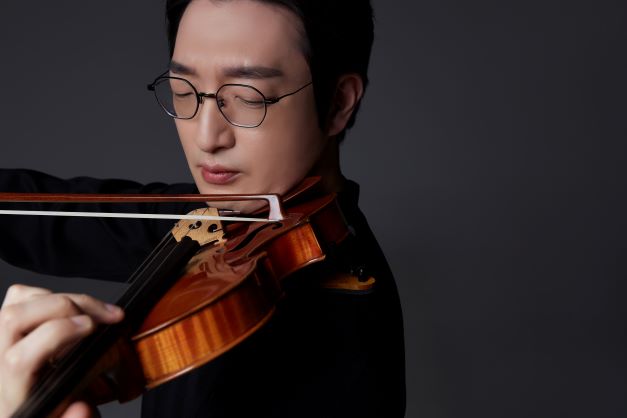 How old were you when you started playing violin? What impressions did you have upon coming to the U.S. from South Korea at the age of 14?
My mother was a piano teacher, so I started learning the piano at age 4 and then started the violin at 6. I was a very adventurous kid so I was mostly excited to be in a new country, seeing different people and eating different food. You would think I would get homesick, being in a completely new environment and culture, and having to face the inevitable language barrier, but I actually had a blast.
You were appointed by the government of South Korea to serve as the ensemble leader of Presidential House "Chungwadae" Art Concert Series for two years (2007-2009). That sounds like a very high honor in recognition of your musicianship. How did you like being in that esteemed position?
It was certainly a privilege that many don't get to have. But I was not the only one. As a Korean male, you have the mandatory two-year military service to fulfill. I was the concertmaster of a government-funded orchestra consisting of Korean male musicians like me who needed to fulfill the duty. They chose about 10 or so musicians from this orchestra to form a chamber group to perform for the President of South Korea and the guests at the Presidential House. It is a great honor and unique privilege. I enjoyed every minute of it.
Recently you appeared as the concertmaster for the New York Symphony Orchestra and are an active member of the acclaimed New York Classical Players (NYCP), plus you performed for the General Counsels at the United Nations headquarters. New York is obviously an important music venue; tell us something about your New York experience.
It is no surprise that New York is a wonderful place for musicians because of the sheer diversity and the unique experience you can have as an artist. I got to meet a lot of amazing musicians such as Stefan Jackiw and Tessa Lark and got to make music with some big names like violinist Pam Frank, cellist Peter Wiley, and pianist Hye sun Paik.
I lived there for four years, and I believe I developed the most as a musician during that time, which was such a critical time in my life because that is when I broke out of my shell as a musician.
You're currently the Instructor of Violin and Viola at Eastern Illinois University's Department of Music. Has teaching been rewarding for you? How?
I have always wanted to teach, especially at a college level. I love building rapport with each student, getting to know their personalities, traits, and tendencies, as these are all reflected in the way they play and in the way they think about music. Therefore, I cater my teaching to best fit each student. I consider myself a late bloomer as a musician, meaning that I had my share of struggles during student years. I am thankful that I can use all of my experience in helping my students. It is incredibly rewarding to witness their growth as musicians.
On October 31, you'll be playing Mendelssohn's Double Concerto with pianist Victor Cayres. Tell us what this piece means to you, and how you feel about playing it with the WPO.
The very first time I encountered this Double Concerto was when I was a student at Indiana University listening to a recording of Franco Gulli and his wife Enrica Cavallo. To me, Gulli is the ideal violinist/musician so I was instantly inspired and hoped that one day I would also have an opportunity to play the Double Concerto with a superb pianist. My wish came true this fall! Victor and I have performed this work twice already and our performance with the Waltham Philharmonic will be the third time! I am grateful and thrilled to have this opportunity to perform the work with the WPO.