Guest Soloists Hayden Idson, Cello, and Joe MacDonald, Violin
Idson Interview
MacDonald Interview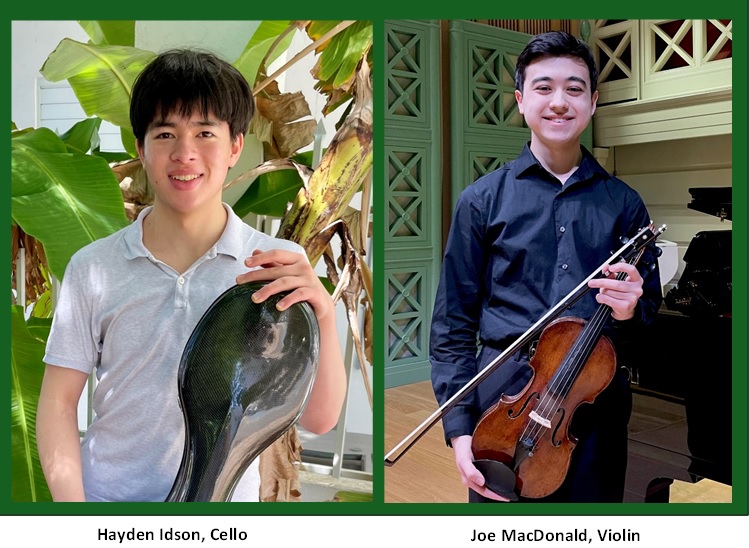 Interview with Hayden Idson
It's great to have you back playing on April 24th, especially after the March 2020 concert was canceled due to the pandemic. How have things been going for you since then?
These pandemic years have been difficult, but I'm very fortunate that nobody close to me got sick. Musicians and other performers have had a particularly rough time due to shuttered venues. Music students and their teachers also had a substantial challenge, as it's very difficult to hear subtle sounds over Zoom lessons. Thankfully, many music organizations made the most of the situation and published wonderful online concerts and even festivals. I took part in quite a few of these festivals. They provided opportunities to take lessons and perform in masterclasses with top musicians across the country. Interestingly, these festivals also allowed me to meet many friends online with similar interests, many of whom I am still in close contact with. Nevertheless, I'm glad that nearly everything is in-person, including being able to perform with the WPO!
At age 10, your first solo performance was with the Waltham Philharmonic Orchestra (seems like yesterday!). How did it feel to be a soloist at that age?
I still remember that I was shaking with nerves before my first meeting with Maestro Korn. I was ten and never played a concerto with an orchestra. A few minutes after meeting Mr. Korn, his kindness and assured manner caused my nerves to melt away. We reviewed the important points to remember when playing with an orchestra, such as making sure that rubato [flexibility/freedom in the performance of a rhythm] is always within a clear rhythmic framework. Then, he brought me out to meet the orchestra. I was only slightly nervous and very excited to play with everyone. Like Mr. Korn, everyone in the orchestra, and everyone associated with the WPO, treated me with such kindness that in a short time it felt like one big family. Given the fantastic preparation provided by the rehearsals with the WPO and the warm atmosphere, I was excited rather than scared. During the performance, I felt wonderful, perhaps because the amount of concentration required to play the cello was an excellent distraction. Afterward, I was quite overwhelmed, and I still remember my friends crowding onto the stage with me, buried in many flower bouquets. It was a highlight of my grade school years.
You were featured on the renowned radio show, "From the Top," which features exceptional young classically trained musicians. How was your experience on that program?
It was a fantastic experience! The FTT organization gave me the choice of recording in a studio in Boston, or from my home. I recorded at home as my 83-year-old grandmother lives with us and the vaccines were not yet available. However, I worried that the recording quality would not be sufficient. Fortunately, it turned out that the choice was easy as FTT delivered to our home a 'studio in a box.' It included professional sound equipment and equipment for insulating the room I would record in to achieve optimum sound quality. Then, they walked me through "creating my recording studio." In the end, everything worked out quite well! The actual recording of the shows (there were two) went without a hitch! The host of the show, Peter Dugan, is an excellent musician, funny, and engaging, and he made the entire experience very memorable. The first show that we recorded was broadcast on December 16 titled, "Virtual Concert: An Evening of Cello." Besides Mr. Dugan, Nathan Chan (the Assistant Principal Cellist of the Seattle Symphony) joined us. It was an honor to share the virtual stage with him. The second show was Show 395 which was broadcast on February 15th. It was somewhat different as each contributor separately recorded their segment, but as with the Virtual Concert, everything went off without a hitch. I played Davidov's "At the Fountain" and Mr. Dugan played the accompaniment part. After having listened to FTT shows for years, I was thrilled to be an FTT alumnus!
Your life is full of music activities, such as composing, learning about instrument making, and music history. Is there any one area that engages and challenges you the most? If so, how?
My greatest challenge is to integrate technique and musicality. Without a good command of technique, a musician is severely limited in his ability to express what the music makes him feel. It's almost like a fantastic writer who lacks a good vocabulary. However, technique alone is a dead-end. Without an artistic vision, a robot could play a piece with perfect technique. The notes and markings give guidance, but beauty comes from an artistic vision. As I mature as a musician, and as my command of technique improves, I try to shift my energies more towards expressing music and stretch beyond the markings on the page.
How does it feel to be playing with the WPO again, and playing the Brahms Double Concerto with Joe MacDonald?
Returning to the WPO is like seeing family members again! I'm certain that this will be a significant musical experience for me, and I am equally excited to see everyone again. It's very exciting to perform the Brahms Double concerto as I've wanted to play it for a while. I'm also excited to play with Joe again. We played in a trio for two years at the New England Conservatory Preparatory School, but I haven't seen him since he went to study at the Royal College of Music. I hope my performance does justice to this iconic work.
Interview with Joe MacDonald
It's great to have you back playing on April 24th, especially after the March 2020 concert was cancelled due to the pandemic. How have things been going for you since then?
Other than being locked up most days due to covid, everything has been going great! I'm glad to have been able to continue most of my studies online. Hayden and I used to do an online chamber last year, so it was great to keep in touch musically despite all the technological limitations. A lot of my time was spent doing my recordings for conservatory applications, so I remember that time being particularly busy. But after all that, I moved to London to study at the Royal College of Music.
London at the Royal College of Music; sounds exciting—tell us about your London experience.
It has been one of the most amazing experiences so far. To be in a small-ish musical community in a big new city is such a pleasure. I've never been in an environment where every student in the school has an ambition that is classical music related, so it's really a breath of fresh air, and I have great support from my professor and the surrounding community. It's been just 6 months since I started RCM, but I've also had quite a number of performance opportunities in London, and all were very different and provided valuable learning experiences. I really appreciated the opportunities!

Moving to a new city, especially in a different country, can be quite jarring, and London definitely has its differences to Boston. I often find myself learning new things about London life as well as new British phrases to conflict with my American vocabulary. Still, I've been trying to enjoy some of London's main sights while also trying to balance all the performances and work!
You've played in numerous world-renowned venues, many in Europe. Is there any one that is especially memorable to you?
I have to say, Vienna's Muskiverein had to be one of the most memorable locations not only because of the beautiful venue, but also the city itself. I performed there when I was 14 years old, and it was the first time in my life I had been to Europe so it had a strong impact on me. I feel like I could go on and on about Vienna but I will keep it concise. It's one thing to perform in a beautiful building, but also being able to walk around the streets and view the breathtaking architecture made this an unforgettable experience. Additionally, you can visit the houses of some of history's most famous composers like Mozart or Beethoven. It's quite surreal to stand in the same house where they composed repertoire that would solidify itself in classical history, and it's really inspiring. I felt like using that connection and performing in Musikverein helped tremendously, because it felt motivating to perform in such a classically rich location.
Do you have time and interest in activities in addition to your music studies? If so, what are they?
This may be because I live by myself in a flat, but I've recently grown more and more interested in cooking. When I have the time, l try to learn a new dish or recipe and hope for the best. I recently tried a new milk tea dessert recipe. It was a bit chaotic trying to get the ingredients all together, but I think it was pretty good for the first time! Additionally, me and my friends will set up a cooking night in the common kitchen so we can try preparing actual feasts to eat with others. Right now, my repertoire is a bit limited, but I hope by the time I graduate I'll have some really nice dishes up my sleeves.
How does it feel to be playing with the WPO again, and playing the Brahms Double Concerto with Hayden Idson?
It feels so rewarding to finally be able to perform with WPO after 2 years. First of all, I really appreciate all the WPO staff and members who have done tremendous work to help make this happen! Everyone has been so warm and welcoming! Also, living so close to Waltham, I feel WPO is like home.
Practicing the Brahms Double Concerto again, it is such a beautiful piece. Especially that second movement! I feel that the work I've done so far generally in college has helped me appreciate the nuances of this piece more than I did 2 years ago. When practicing, I feel almost nostalgic and I can't wait to start rehearsing with Hayden and the WPO soon!