Lazar Kaminsky, Winner of 2022 WPO Student Concerto Competition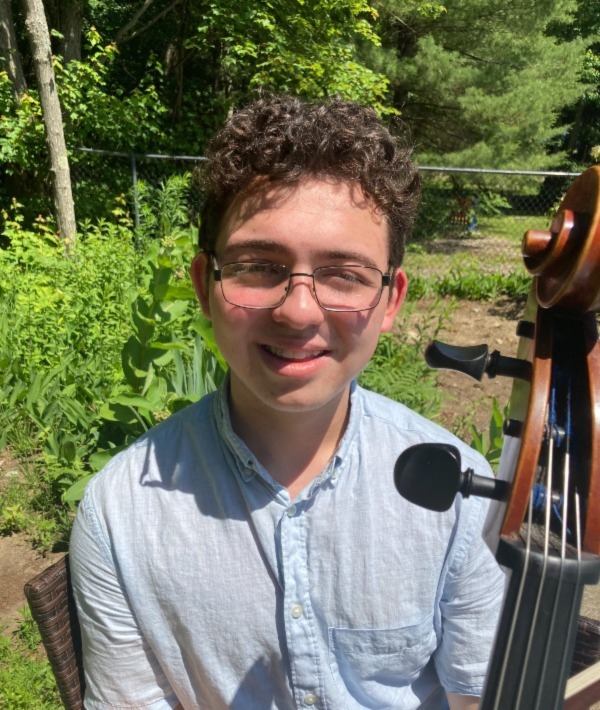 Lazar Kaminsky is a cellist based in the Boston area. Throughout his life, Lazar has won competitions, and performed major solo, chamber, and orchestral works around the world. He won the AIMS Festival concerto competition in 2015 and 2019 and performed as soloist with the AIMS Festival orchestra twice. He also won the NEC Solo Competition and the IMO New York Solo Competition. Lazar has also performed as soloist with the NEC Prep String Chamber Orchestra. He was co-principal cellist of the NEC Youth Symphony during their 2019 season and is now co-principal of the NEC Youth Philharmonic Orchestra. Lazar has played as soloist in NEC's Jordan Hall, Italy, Spain, Israel, and Mexico.
We asked Lazar about his experience as a musician and his upcoming performance in the December 4th, 2022 concert, Winter Waltzes, Pops Delights!
How old were you when you started to play the cello, and why did you choose that instrument?
I was almost 5 years old when I first started playing cello. My whole family is made up of musicians so I ended up hearing a lot of rehearsals and concerts as a toddler. I always loved the low resonant sound of a cello and as a result became the only cellist in the family after convincing my parents to buy me one! I have stuck with it ever since.
Congratulations on winning the WPO Student Concerto Competition. You've won other competitions, as well. Tell us about these impressive achievements.
I have always been motivated to compete and have been very lucky to have been able to participate in so many competitions. I feel that competitions are a way of keeping my playing in check and motivating my practice. Every competition I get to participate in is a new learning experience for me, each helpful in its own way.
Have you had a performance experience that stands out for you? Tell us about it.
Just like with competitions, I find that every performance is special in its own way. Most performances are a learning experience no matter how well they go. I am very lucky to have been able to perform in many parts of the world, including Spain, Israel, and more.
At our December 4 concert, you'll be playing Tchaikovsky's Variations on a Rococo Theme, Op. 33, for Cello and Orchestra. Does this piece have a special meaning for you?
Tchaikovsky's Variations on a Rococo Theme is an incredible piece. It's a pinnacle for all cellists, holding its mark as one of the most notable pieces in the cello repertoire. It starts with an orchestral introduction and then a simple theme that progresses into many amazing variations. The whole piece is filled with fascinating dialogue between the cello and orchestra and is immensely fun to play and listen to.
How has your experience been so far, playing with the Waltham Philharmonic Orchestra?
I am incredibly excited to start working with the Waltham Philharmonic Orchestra. It's a great privilege to get to play with the orchestra and the performance will be lots of fun!