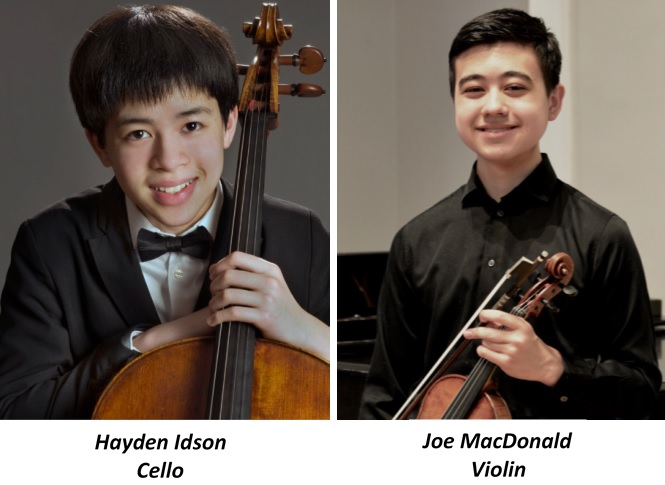 Read Hayden's and Joe's Bios here.
Hayden Idson, Cello, and Joe MacDonald, Violin, will delight us on March 15th with their performance of Brahms' Double Concerto. We asked both musicians about what they've been up to since last performing with the WPO in 2018. Here, they fill us in on their musical developments, and how they feel about the upcoming performance.
You're both former winners of the WPO Student Concerto Concert, were featured in a concert, and subsequently played with us in another concert. How do you feel about playing with the WPO again?
Hayden: My very first performance with an orchestra was when I was 10 years old and I played the first two movements of the Elgar Cello Concerto with the WPO. It is one of the most memorable musical experiences I have had. When I returned two years ago, as a WPO concerto competition winner, to play the Saint-Saens Concerto with the orchestra, it felt like I was coming home. The WPO is like family to me and I have gotten to know many of the excellent musicians, so I couldn't be happier and prouder to be invited to play with the WPO again.
Joe: I had such a great time with the WPO previously, the atmosphere within the orchestra is so warming and welcoming and Mr. Korn is very supportive when we have discussions about the music making so I am very happy to step back into that environment again, especially this time with a piece as beautiful and grand as the Brahms Double Concerto!
You last performed with the WPO in 2018. Tell us what you've been doing since then, and how your music career is developing.
Hayden: Quite a lot has happened since my 2018 performance with the WPO. In 2019, I won the Concord Orchestra Young Artist Concerto Competition and gave two performances of Tchaikovsky's Variations on a Rococo Theme with the Concord Orchestra. I have had the honor of studying with two wonderful teachers, Yehuda Hanani from 2018-19, and then Paul Katz from 2019-present. Last summer, I attended the Bowdoin International Music Festival for six weeks and learned a lot from teachers and students coming from all over the world. I enjoyed my experience at Bowdoin so much that I plan to go there again this summer. Last but not least, I started playing a lot of chamber music this year. Joe and I are playing in a trio together and I am also part of a string quartet in the New England Conservatory (NEC) Preparatory Schools' CHIPS (Chamber Intensive Performance Seminar) program.
Joe: After our 2018 concert, I have delved further into my work as a classical musician. I began studying with Professor Yuri Mazurkevich, and I attended the Boston University Tanglewood Institute. I also participated in the CHIPS (Chamber Intensive Performance Seminar) program at NEC and now I am enjoying being in a Piano trio with Hayden and Naomi Yamaguchi.
I also continue to perform with the Boston Youth Symphony and enjoy the repertoire that we play which includes Mahler, Tchaikovsky, Verdi, Dvorak, and others. We just had a concert of [Verdi's opera] Aida with professional opera singers! It was an amazing experience working with the singers and learning how to accompany them.
I am now a junior at Commonwealth School and am enjoying my high school life with friends, which includes tons of studying and college preparation. I'm also in four different chamber groups of varying instrumentation. In addition to chamber, I lead the Commonwealth orchestra and enjoy helping fellow students with their parts.
As for my solo work, I am really looking forward to performing the Brahms Double Concerto with Hayden and WPO and I'm also going to be performing with the Brockton Symphony this year.
You both play in a trio and will perform Brahms's Double Concerto together in our concert on March 15. Tell us about the trio, where and what you perform.
Hayden and Joe: We got to know each other because we were co-winners of the 2018 WPO Student Concerto Competition and we both performed in the concert featuring the winners. This past fall, we formed a trio with pianist Naomi Yamaguchi. We were all very excited to play in the trio because we had heard a lot of positive remarks about each other. We were also very privileged to have found an excellent coach, Peter Jarvis. The first piece that we worked on was the Mendelssohn Piano Trio No. 1. We won the Boston Music Institute (BMI) competition's chamber music category last December and performed the entire Mendelssohn Trio at the NEC's Chamber Music Festival last month. This coming fall, we will be performing the Turina Piano Trio No. 2 at the BMI Competition Winners' Concert at the Shalin Liu Performance Center.
Do you have a special fondness for Brahms? How do you feel about the Double Concerto; what does this piece mean to you?
Hayden: Brahms' Cello Sonatas and his Double Concerto are some of my favorite compositions. I feel that Brahms really knew how to bring out the beautiful sound and colors of the cello. In the Double Concerto, he created a dialogue between the violin and cello that is so unique I have wanted to play it. It was a dream come true when Mr. Korn invited me to play it with Joe and the WPO.
Joe: Hayden and I have always been thinking about this piece before, so we have grown quite attached to its beautiful melodies and ideas. I love the masterful composition where the violin and cello have melodies and passages that we continuously pass to each other. It is like the piece was composed for one instrument, so we have to have a certain connection that allows for the piece to flow.
We're very happy to have you perform with us again! Is there anything in particular that you're looking forward to this time around?
Hayden: I'm looking forward to working with Mr. Korn again! I remember the first time I went to a rehearsal with the WPO for my Elgar performance, I played for Mr. Korn before the orchestra members arrived and I was a bit nervous. He put me at ease right away and over the years, I've gotten to know him well and he is always very nurturing, supportive, and funny. I'm also looking forward to seeing all the members of the WPO again who have always welcomed me with open arms.
Joe: I am looking forward to working with Mr. Korn again; he has been very generous to give us this offer to perform the Brahms, so I am very excited to start rehearsals with him and the orchestra soon!
Purchase tickets for "An Afternoon of Blissful Brahms" NOW!
---